ASSURANCE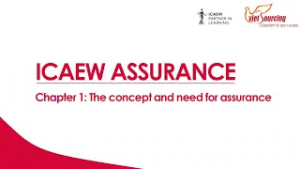 MODULE AIM
To ensure that students understand the assurance process and fundamental principles of ethics, and are able to contribute to the assessment of internal controls and gathering of evidence on an assurance engagement.
On completion of this module, students will be able to:
explain the concept of assurance, why assurance is required and the reasons for assurance engagements being carried out
by appropriately qualified professionals with an attitude of professional scepticism and the exercise of professional judgement;
explain the nature of internal controls and why they are important, document an organisation's internal controls and identify
deficiencies in internal control systems;
select sufficient and appropriate methods of obtaining assurance evidence and recognise when conclusions can be drawn from evidence obtained or where issues need to be referred to a senior colleague; and
understand the importance of regulation of the profession and ethical behaviour to a professional and identify issues relating to integrity, objectivity, professional competence and due care, confidentiality, professional behaviour and independence.
METHOD OF ASSESSMENT

The Assurance exam is 1.5 hours long. The exam consists of 50 questions worth two marks each, covering the areas of the syllabus in accordance with the weightings set out in the specification grid. The questions are presented in the form of multiple choice, multi-part multiple choice, or multiple response.

ETHICS AND PROFESSIONAL SCEPTICISM

The importance of ethics both as a knowledge area and as a behaviour to be demonstrated is reflected in the syllabus area below 'Professional ethics'. The learning outcomes cover a range of threats and dilemmas to be identified as well as safeguards and solutions to be resolved. Professional scepticism is included in the requirement for the syllabus area 'The concept, process and need for assurance' where students are also required to recognise the need for the exercise of professional judgement.

SPECIFICATION GRID

This grid shows the relative weightings of subjects within this module and should guide the relative study time spent on each. Over time the marks available in the assessment will equate to the weightings below, while slight variations may occur in individual assessments to enable suitably rigorous questions to be set.
SYLLABUS AREA
The concept, process and need for assurance

Internal controls

Gathering evidence on an assurance engagement

Professional ethics and regulatory issues
The following learning outcomes should be read in conjunction with the relevant sections of the technical knowledge grids at the end of this document.
ASSURANCE
LESSON 1
LESSON 2
LESSON 3
Lesson 4